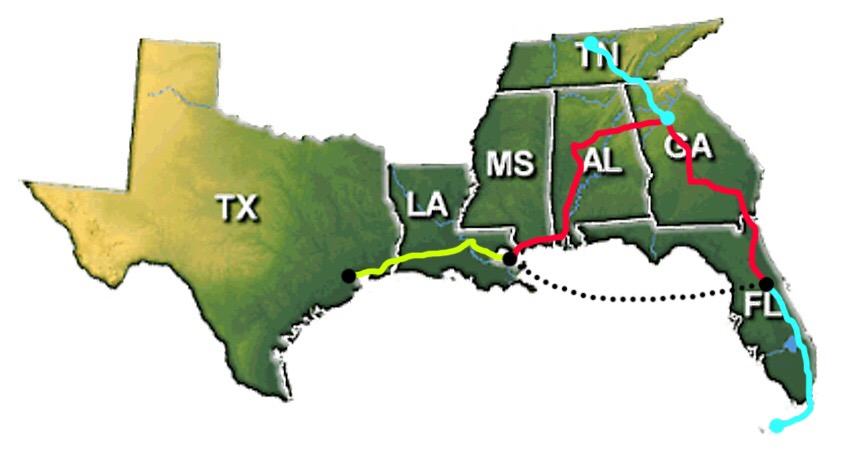 Back home now and already thinking about where to go next. I enjoyed my walkabout so much and met so many wonderful people that I wouldn't mind going back to the south, but it is a big world with so much more to explore and experience.
I mentioned in a post early in the trip that my plans were evolving. This map shows the actual route that I covered walking, hitchhiking, by bus and by train.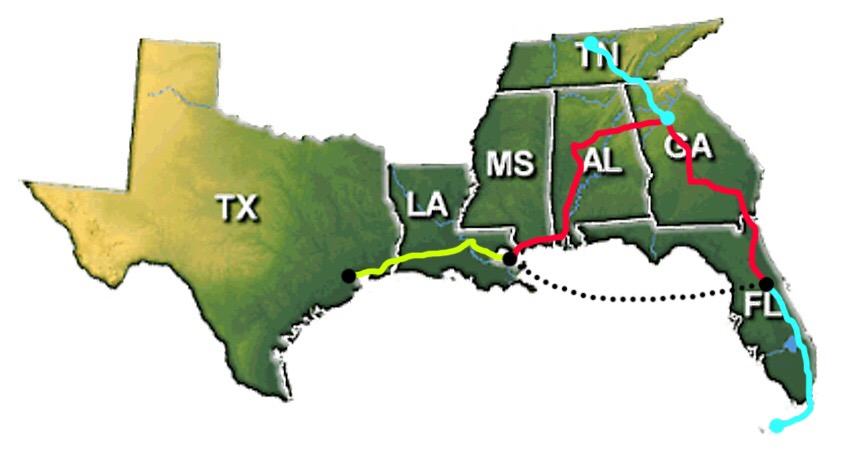 Started with a flight to Houston on January 1st. Hiked a portion of the Lone Star Trail north of Houston until rain, mud and swamp forced me to make the first change to my plans. From Houston to Baton Rouge to New Orleans. Flew from New Orleans to Orlando to meet my wife and daughter. We drove from Orlando to Key West, then back to Orlando, stopping along the way in Miami and the Everglades.
I was on my own again hiking north of Orlando on the Florida Trail. The weather turned really bad after a few days with severe storm and tornado warnings throughout much of the south. Tornados did touch down, killing 16 people in southern Georgia. I took an Amtrak train into Jacksonville Florida to stay dry.
From Jacksonville I walked and hitchhiked north to Macon Georgia, then on to Atlanta.
Just before arriving in Atlanta I received a Facebook message from a friend, Nicole Miller, who I had not seen in quite some time. She invited me to Nashville to stay with her and her husband, Dutch. I rented a car in Atlanta and drove to Nashville. On the way back I stopped to visit the Jack Daniels Distillery in Lynchburg Tennessee, then down to Carrollton Georgia to visit friends at BlueWater Ropes.
Returned the rental car to Atlanta and took a bus to Tuscaloosa Alabama. From there I walked and hitchhiked south to Mobile to visit friends from Nepal who live there now.
From Mobile I walked and hitchhiked following the gulf coast back to New Orleans. One more night in New Orleans, then a flight home on a day that two more tornados touched down. What's up with the tornados in the south? I thought that was hurricane territory and tornados occur in Kansas.