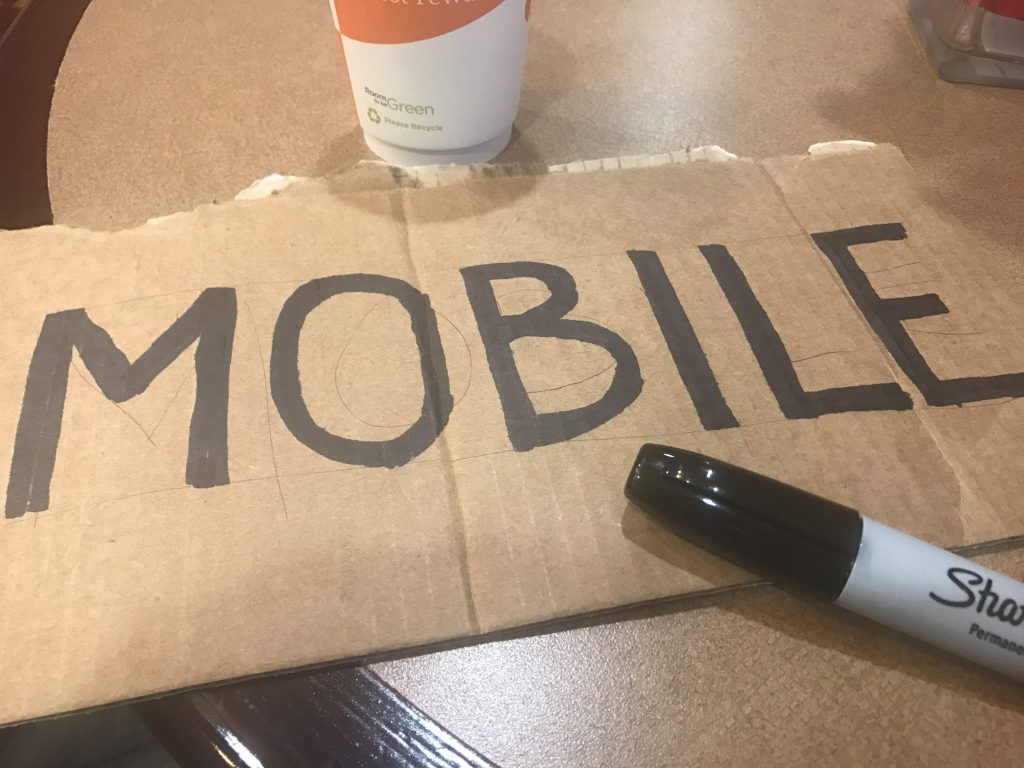 It was cold and raining when the day started in Thomasville, Alabama. The day before had been rough. This day was primed to be even rougher. The rain stopped, but the clouds never cleared.
I walked less than a mile before I caught my first ride. 15 miles down the road felt like a ray of sunshine.
My next ride was with a guy named Rod. I saw his pickup go by heading south. Unmistakeable two-tone paint job; tan and purple. He told me later that Chevy only made three in that color. Several minutes later I saw him again heading north. He did a U-turn and pulled up beside me. He had driven nearly a mile south before deciding to give me a ride to Mobile.
Rod doesn't drive a new truck. It's a '95 model; rough, inside and out. It is clear that Rod does not possess much material wealth. I have been noticing a pattern throughout this trip. Those who have the least are often the ones most willing to help others.
Rod received a call and apologized for needing to make a quick stop. His dad is suffering from some medical problem. Rod agreed to come over to show a kitchen stove to a family friend who was interested in buying it. The conversation between father, son and friend expanded to a variety of topics beyond the stove. There was a common theme to many of the topics. Rod helping his dad. Rod helping neighbors. Rod helping friends. Rod helping.
As we drove down the street to get back on the highway, a neighbor waved Rod over. I don't know the details of what they discussed, but I heard Rod say, "Yeah, I'll do that for you." I heard that line from Rod several more times during our drive as Rod talked on the phone.
Rod was going to Mobile to visit a friend in the hospital. An ex girlfriend who still benefits from his kindness. She has a son who lived with Rod for awhile, even after they broke up. Rod was married once, but lost his wife to an accident and doesn't feel he will ever love another woman like he loved her. His wife had a son who Rod still thinks of as his own.
Someone called Rod and asked him for help with a vehicle. "Yeah, I'll do that for you." Someone called him about some bedroom furniture. Rod told the caller he would build a bed frame and headboard to save them some money. A woman called to ask for advice about a family problem. Rod was there for her. Another call. "Yeah, I'll do that for you." And another. And another. "Yeah, I'll do that for you."
As we approached Mobile, I checked the map on my phone to figure out the best place for Rod to drop me off. The hospital is on the west side of Mobile and I was heading to Fairhope on the east side of Mobile Bay. I asked Rod what he thought would be the best way for me to get to Fairhope. "In this truck. I'll take you there."
My destination was Yak Kathmandu Kitchen to visit some dear friends from Nepal. I convinced Rod to join me for lunch, but I was just postponing the inevitable goodbye. I feel blessed to have met this man; this kind soul who brings so much sunshine to the lives of those who know him.