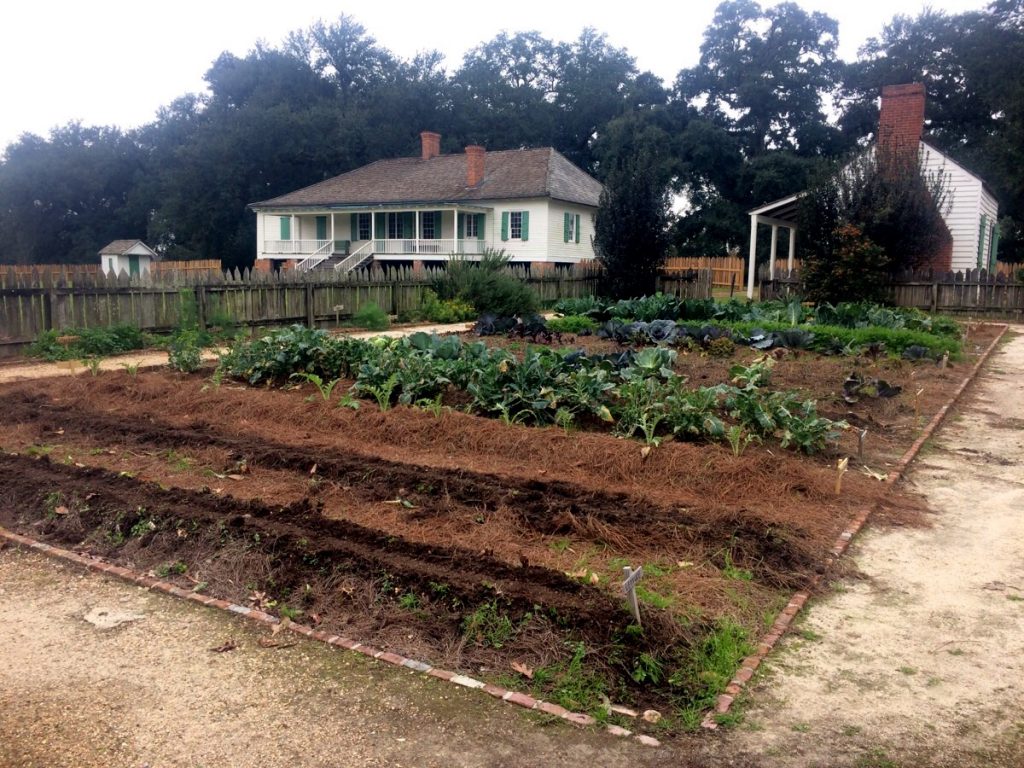 Jean Baptiste Le Moyne, Sieur de Bienville served as the French Colonial Governor of the Louisiana Territory. In 1698, Bienville and his brother, Iberville led a French expedition to the Gulf of Mexico and up the Mississippi River. While traveling up the river they spotted a red pole which marked the boundary of two Native American tribes. They called the spot "Baton Rouge", which translated into English means "red stick".
Spent a day exploring Baton Rouge. One of the highlights was a tour of the Magnolia Mound Plantation. I arrived just after opening and was treated to a private tour with a very knowledgeable guide.
Louisiana was first claimed by the French. Fearing they would lose a war with Britain, France turned the land over to Spain just to make sure the British wouldn't get it. The Magnolia Mound Plantation was originally settled by an Irishman under a Spanish land grant. The grant had three stipulations, (1) you must be catholic, (2) you must build a levy along the Mississippi River, and (3) you must work the land.
The Irishman married a Creole woman. When he died, she took over the plantation. She later married a Frenchman from the the other side of the Mississippi who developed financial problems. The two legally separated to make sure the Magnolia Mound Plantation would not be lost, but they continued to live together with a blended family; her children from previous marriage, his children from previous marriage, plus a few they had together. Total of 11 children.
Unfortunately, no photos are allowed inside the lavishly decorated main house, but following my guided tour I was free to wander around the grounds on my own.
I found the open hearth kitchen especially interesting. It is located in a separate building due to the heat generated. On display was a large collection of hand-forged kitchen gadgets for a variety of tasks – coffee roaster, toaster, Dutch ovens, etc. There was a roasting spit that revolved automatically using a chain and pulleys. A gourd with a hole in the bottom, filled with sand, would provide an ever-decreasing weight to turn the spit.
While in Baton Rouge I also visited the State Capital Building, claimed to be the tallest in the country. The vew from the 27th floor observation desk was quite spectacular.
Passed by the USS Kidd, named for Rear Admiral Isaac C. Kidd who died at the bridge of the USS Arizona in Pearl Harbor.
I was looking forward to seeing the Belle of Baton Rouge paddle boat, but it was a big disappointment. Interior has been converted to a rather tacky casino.
Kinda wish I wasn't cutting back on beer consumption; there were some really nice breweries and bars in the area.