Rope work is a blend of science and art. The science can be learned by the memorization and repetitive practice of systems. But the efficient and effective adaptation of those systems to a variety of dynamic scenarios is an art that must be developed through an understanding of core principles and concepts.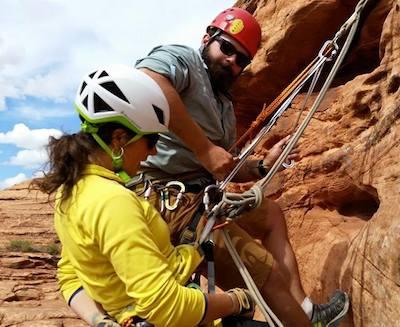 Canyons & Crags offers rappelling, rigging and rescue workshops that go beyond memorization of basic systems. The focus is always on the critical thinking, creative problem-solving and systems analysis skills required to accomplish missions efficiently and effectively. Workshop participants become knowledgeable in the principles and concepts of rope work, rather than just learning systems by rote. The approach may seem revolutionary, but it is primarily the instilling of knowledge and skills rather than reliance on hardware and technology.
Since 1990 Canyons & Crags' proprietor, Rich Carlson has provided technical rope work training for canyoneers, climbers, rescue teams, rope access workers and others from across the Americas and overseas. Rich's courses continue to set the gold standard for canyoneering, canyon rescue and professional canyon guides. Key practitioners, leaders and instructors from around the world have reported that Rich's courses are vastly superior in terms of educational and practical value to any other similar course they have attended. Although Rich is best known in the canyoneering community, the skills and techniques he teaches have applications across the spectrum of vertical rope work.
Training is offered in four ways …
1. Open Enrollment Courses
These are courses that Rich schedules and opens to public registration. Check out our Events Calendar for upcoming courses. Proceeds support Rich's volunteer training projects.
From Rich: Going all the way back to 1990, open enrollment courses were the most common way I offered training. Nowadays my service projects occupy the majority of my time … but I do still offer courses from time to time, primarily Rigging & Rescue Workshops, Rappel Master Workshops, and Totem Rigging Workshops.



2. Custom Contract Training
Custom training can be tailored to your specific needs and taught at your location. This allows your team to develop skills based on the local environment and the rigging and rescue situations they could most likely encounter. Proceeds support Rich's volunteer training projects. Contact Us to discuss your training needs.
From Rich: I currently have regular training gigs in Hawaii, Hong Kong and elsewhere that include Rappel Master, Technical Rope Rescue, Canyon Leader-Guide and Canyon Rescue Technician courses. I also work as a technical consultant for film and print media projects.
3. Training – Partial Gift
In many situations Rich will forego his usual teaching fees — volunteering his time, labor and expertise — and ask students to cover only the costs of his transportation, accommodations and meals. Contact Us to discuss your training needs.
From Rich: My criteria for accepting partial gift training projects is admittedly quite subjective. Past projects have included training for Boy Scout leaders, volunteer technical rescue teams and projects that I accepted just because they were in cool places I had not visited before.
4. Training – Full Gift
In some special situations Rich will not only forgo his teaching fees — volunteering his time, labor and expertise — he will also cover the cost of his own transportation, accommodations and meals. For qualifying groups, Rich will provide training; assist with the establishment and promotion of a youth service program, canyon guide program and/or canyon rescue program; as well as help with the acquisition of gear. Contact Us to discuss your training needs.
From Rich: Full gift projects have included training for guides and rescue teams from Native American communities and most recently, training guides in Nepal. With the help of some very generous friends, I have also been able to donate a substantial amount of technical gear to help establish guide services that provide employment opportunities for previously unemployed Nepalis. I also enjoy opportunities to provide adventure programs for disadvantaged children.



---
Inspired by "Sacred Economics" by Charles Eisenstein. Wouldn't it be a beautiful world if we simply helped those in need without worrying about silly pieces of green paper.