Our 3-Day Rappel Master training program will provide you with the knowledge and fundamental skills you need to manage and supervise non-tactical rappel operations, while you are also honing your own personal on-rope skills.
[Rich] did a great job of explaining the materials and did a great job of having us all work through the processes several times to make sure we understood it. He did well in evaluating everyone's knowledge while continuing to instruct new material. 
I do not have any suggestions for improvement as it was all more than I expected it to be.
I would highly recommend this course to others interested in this type of knowledge.
Thank you for a great [Rappel Master] course and for all of the knowledge passed on to us!
The instructor was full of knowledge and [the Rappel Master course] was taught in a way that I could learn (hands on). I liked that the class could be shifted to certain areas that we as a group wanted to learn which pertained to our profession (law enforcement).
I absolutely would recommend this course to others and have already told some coworkers about it.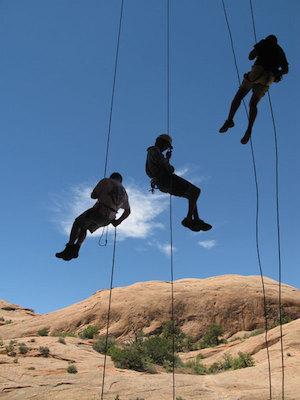 Our Rappel Master training program provides participants with current knowledge and fundamentals to manage and supervise non-tactical rappel operations. It is designed for individuals whose occupations require rappelling, for those who are in charge of rappel training, and for anyone interested in taking their rappelling and outdoor leadership skills up to a higher level.
The program is also ideal for canyoneers and other practitioners of adventure-based and experiential education. Participants will have opportunities to enhance and hone skills, experience personal growth and develop leadership abilities.
__________
Topics covered include:
rappelling, locking off mid-rappel
ascending, transitioning from rappel to ascend and ascend to rappel
rigging releasable contingency systems
assisted rappels, simul rappels, pick-off rescues
problem-solving and decision-making methodologies, avoiding heuristic traps
group dynamics and facilitation, situational adaptation of leadership styles
importance of both objective (technical) and subjective (human) leadership skills
hazard identification, risk assessment and management
site management and transition safety systems
teaching principles and strategies
planning and presenting an effective rappelling program
Additional information
| | |
| --- | --- |
| Course Date/Location | Cedar City UT 25-27 May 2021, Slowflake AZ 10-12 June 2021 |
| Payment | Balance Due, Deposit, Payment in Full |
Only logged in customers who have purchased this product may leave a review.