Techniques on Rope
February 18

-

February 19
Event Navigation

Instructor: Rich Carlson
Canyoneering Competencies: Level 2 Module – Techniques on Rope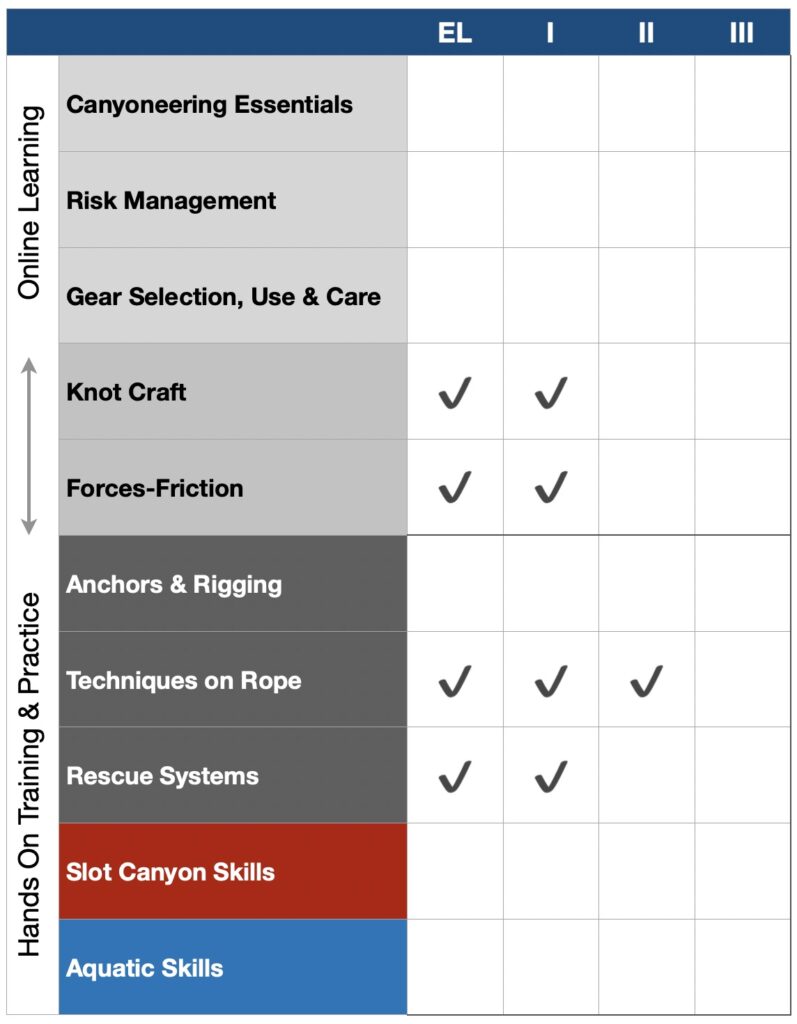 Gain knowledge and competence by honing your personal rappelling, ascending and problem-solving skills. This intermediate-advanced level course is designed to take your knowledge and skills up a few more notches to overcome progressively more difficult challenges encountered in canyons. This course was designed primarily to meet the needs of intermediate-advanced recreational canyoneers, but also forms the foundation for those planning to pursue canyon leader/guide or canyon rescue training.
Topics covered in the course include:
the importance of system safety checks
knots, bends and hitches
belays, lowering and hand lines
using friction and sequencing to utilize marginal anchors
static rigging vs releasable contingency rigging
rope deployment, coiling and rope bag use
rappelling techniques and on-rope skills
adjusting friction pre-rappel and mid-rappel
locking off while rappelling
dealing with difficult rappel starts
pass a knot while rappelling
ascend fixed rope from ground up
transition from rappel to ascend and from ascend to rappel
clipping short, pass a knot while ascending
proper techniques for multi-pitch rappels
rig and use lower-rappel combo rigging to avoid knot-passing
correct uneven ropes when rappelling double strand
Gear Requirements:
harness
helmet
rappel/belay device
5-6 locking carabiners, HMS (pear shape) preferred
If you have additional gear, feel free to bring it, but it is not necessary to purchase anything special for the course, other than what is listed above. Additional gear will be available for you to borrow, try and purchase during the course.
This is a Hybrid Course
This course includes online training material. Virtual meetings with your instructor will be available to you before and after the hands-on training days. In addition, you and other students in this course will become part of a private online group for ongoing consultation with the instructor.
Prerequisite: NONE
Course Fee: $395
Canyoneering Karma Passport holders: $145
REGISTRATION: Buy your ticket(s) here on this page. If you have a Canyoneering Karma Passport, the $145 ticket price is your payment in full. If you do not have a Passport, the $250 balance will be due on or before the first day of the course.
Canyoneering Karma Passports are available HERE